Wearing AODAI(traditional Vietnamese dress) - Feeling like Miss Vietnam and Attend Ho Chi Minh Travel Fair
Vietnam Travel Fair ITE HCMC 2019
Venue: Saigon Exhibition & Convention Centre (SECC)
Dates: September 5 (Thu) ? 7 (Sat), 2019
Live report from Super Girl Inko (Parakeet) at Ho Chi Minh Travel Fair
"Good Morning, Saigon!"
September 8 (Sun), 2019
I left the hotel via taxi to catch my morning flight at 7:00am, I really don't want to leave, I have fallen in love with this city, Ho Chi Minh, already.
This was the first time I attended the Ho Chi Minh Travel Fair, and I speak literally no Vietnamese. But I had nothing to be scared of as Tam, my Vietnam colleague, attended the fair with me. Compared to Hanoi and Danang, the people of Ho Chi Minh are more used to foreigner visitors. Foreigners can easily survive speaking English here.
I was given an important mission for attending the travel fair: promote our company's hotels and resorts to the local people and travel agents. This type of fair is the best opportunity to personally explain to everyone the unique aspects of our properties and the various special services we offer. It is a good chance to do marketing research too. I learn the trends of what Vietnamese people are looking for when they travel to Japan. If I have good luck, I may catch a big fish (i.e., get orders from travel agents).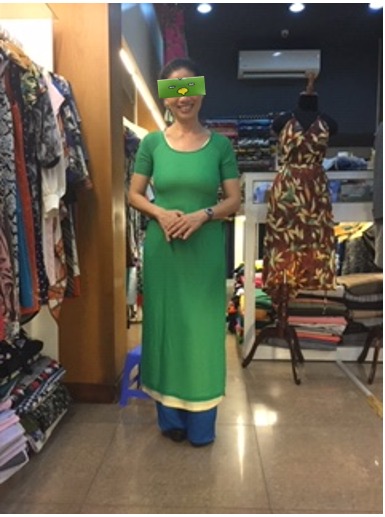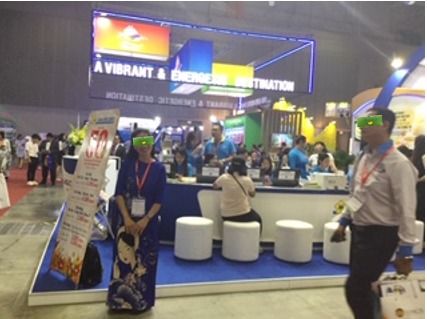 We have been using various marketing avenues to increase the number of followers on our company Facebook page, "Doministore". (I'm personally addicted to promoting our company blog!) Facebook is a good way to send timely messages to every corner of the world; just press one button, and your message spans the globe! Super Girl Inko came up with a great idea... She bought a traditional Vietnamese dress and wore it to the Travel Fair, making it look like she was a local resident. "Hey, I'm your buddy. So please give our company Facebook page a vote!" Everything went well, and my plan was very successful. We got over 1,100 "LIKES" in three days. Bravo!
The lotus is the national flower of Vietnam. The concierge at Bitexco Tower, Saigon Skydeck explained to me that the design concept for the complex is the lotus. "The lotus is pure beauty, a wonderful gift from Mother Nature with a noble spirit." Although lotus is bred in unappealing soil environment, its heart is pure as it blooms. The lotus represents the open, generous spirit and beauty of the Vietnamese people. Even though they have experienced war after war, they were not affected by the chaos and have been growing with prosperity.
Vietnamese people are pro-Japanese. The Japanese government and many Japanese companies have contributed much to the growth of the Vietnam economy. Japanese people should be proud of this. Everyone I met said, "We like Japanese people and welcome them.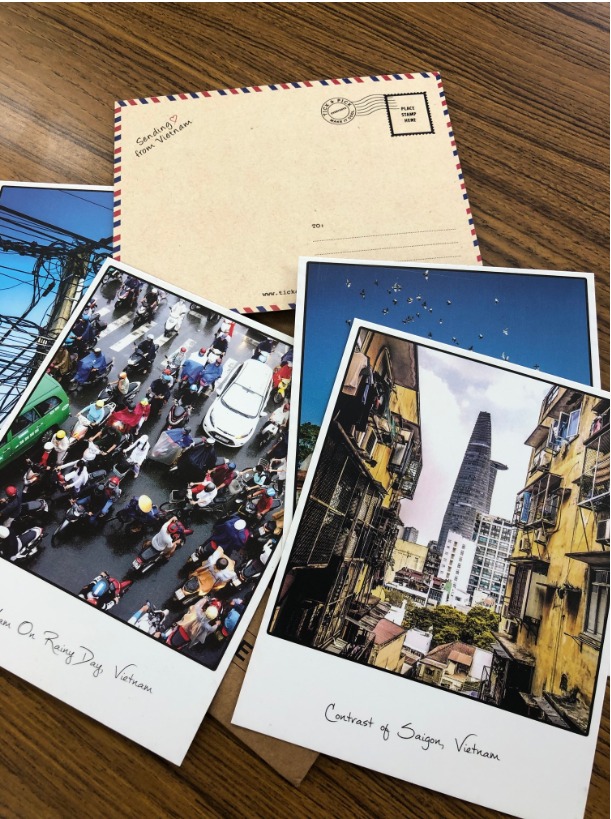 I'm excitedly waiting for the grand opening of our first dormy inn in Danang. Coming in the near future!
PS: Bitexco Tower, Saigon Skydeck HP
↓
ベトナム旅行フェア「ITE HCMC 2019」
会場名:Saigon Exhibition & Convention Centre (SECC)
期間:2019年9月5日(木)~9月7日(土)
ホチミンの博覧会に出展した時の、現地レポートです。
『グッドモーニング, サイゴン』
9月8日(日曜日)
朝7:00出発の便に間に合う為、早朝の4:30にタクシーに乗り、ホーチミン市を出発ました。
帰りたくない・・・
私はホーチミンが好きになりました。
ホーチミンの博覧会は初めての参加で、私はベトナム語が話せません。
ベトナム出身のスタッフ「タムさん」が一緒なのでとても心強かったです。
ハノイやダナンと比べて、ホーチミンでは英語で話せるスポットが多かったように感じます。
今回の方越は、マーケットリサーチとして、ベトナム人の訪日傾向などを把握できれば良いと思うのと、又、
運が良ければ、大きなエージェント様を掴んでいきたいと思っていました。
最近はDOMINISTOREのフォロワーを増やすことにとても力をいれています。
DOMINISTOREのFasebookで、情報を発信していきます。
今回、私、スーパーガールいんこは秘密兵器を用意しました!!

街で、「オーダーメイドベトナム衣裳アオザイ」を入手したのです!!

旅行博で、民族衣装を着て親近感を出す作戦を考えました。DOMINISTOREの「いいね」票を多くいただけるように
体を張って「アオザイ」を着てみました。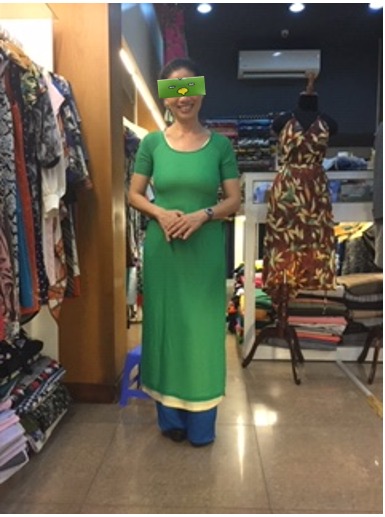 ↑
いんこ配色の「アオザイ」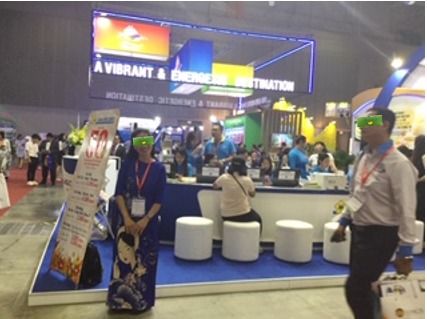 3日の実績で1100票を頂きました。
万歳!という気持ちです。
・

・
・
ベトナムの国花は蓮です。
「ビデクスコ・フィナンシャルタワー(Bitexco Tower, Saigon Skydeck)」はこの蓮のイメージです。
と共にタワーのコンシェルジュの方が説明してくださいましたのは、
『蓮は泥の中に育てられて、決してきれいな場所ではありません。しかし、「蓮」は泥のような汚れに染まらず穢れのない清らかな花となされます。
国民はベトナム戦争の混沌を経て、みんな頑張って復興し、生活している。そして発展し続けています。』と話してくださいました。
ベトナム人全体的に、親日的です。なぜなら、日本の政府や企業も経済的に、技術的に貢献しています。
ベトナムの方は皆、口をそろえて「日本人が好きです。」と話してくださいます。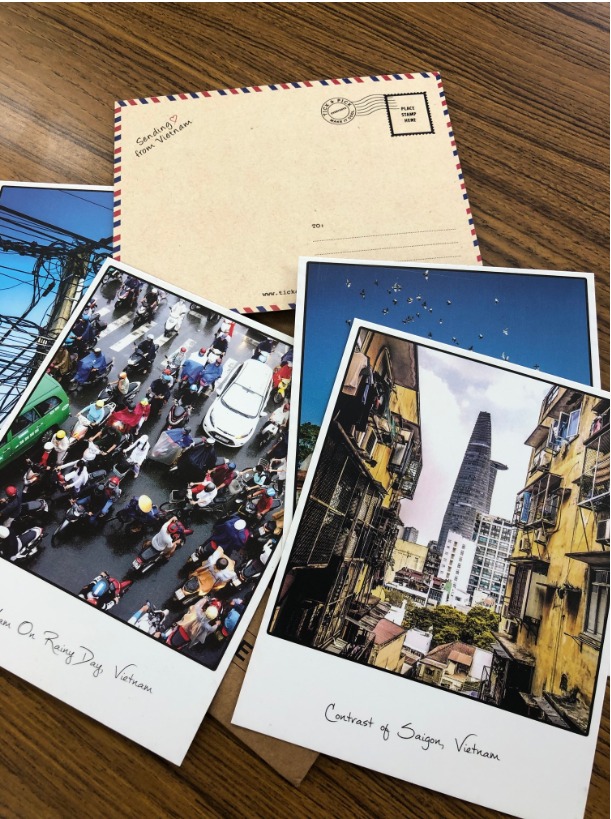 何年後の「ドーミーインダナン」を楽しみしてくださっています。
ビデクスコ・フィナンシャルタワー
ホームページはこちらから
↓